To join, please send us your $50.00 dues for your 2018 club membership payable to "Casa Grande RC Flyers, Inc". Include the following with your payment:
Your name as appears on your AMA card or a copy of MAAC card
(MAAC members must send a copy of their card valid thought 2018)
Your AMA or MAAC number
Your E-Mail address
Your mailing address
Your telephone number
Include a stamped self addressed envelope (to return your membership card).
Your membership card will be sent back in your self addressed, stamped envelope. You will be e-mailed the access code to the field gate and sent information about club events. You can download the membership application below. You may also use the Pay Pal link to make your payment, but an extra charge is added to cover the Pay Pal processing costs and the mailing of your membership documents.

Please mail to:

Casa Grande RC Flyers
C/O Alan Friedman, President
5309 N Pioneer Dr
Eloy, AZ 85131
All current memberships are renewed at $40.00/year if renewed before December 31st of the present membership year.
Add Extra Family Member At A Lower Cost
"Extra Family Member" membership is available from both the AMA and the club. Your spouse or adult child ,living at your address, can join the AMA as an extra family member for $38.00 per year. Extra family members can join the Casa Grande RC Flyers for only $25.00 for the first year instead of the usual $50.00. Family member renewals are 1/2 the cost of the regular club member. The extra family member has the same full benefits, and can use the club flying field or car track any time they desire. Bring your spouse or adult child to the field with you, and have them learn to fly or race RC Cars while you are there.
The Casa Grande RC Flyers welcomes young people (age 19 and under) as members at a special price, They can donate time to work at the field instead of paying if they desire. The AMA also offers them free AMA memberships. Contact a club officer for details.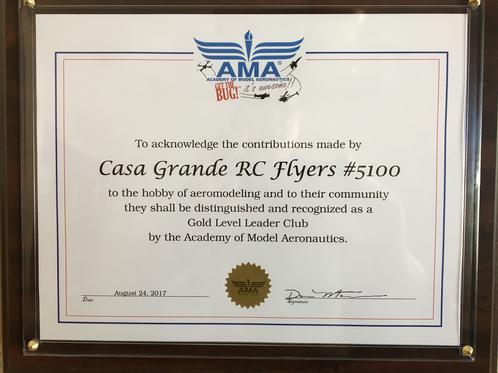 Our club's Gold Level Leader Club award.
| | |
| --- | --- |
| Click on the PDF box to the right to print our membership application. Then mail it to us with a stamped, self address, return envelope to save the $5.00 shipping and handling charges. Otherwise use the membership link below. | Casa Grande RC Flyers Membership Application |
If you have any questions for the club's board of directors, send them to the following e-mail address and they will be forwarded the board members.
CasaGrandeFlyer@aol.com
The Casa Grande RC Flyers is an Academy Of Model Aeronautics Gold Level Leaders Club in Casa Grande, Arizona. AMA or MAAC membership is required to join and to use our field.