Join now and get up to 3 months free with your 2019 annual membership. October, November and December are free to new members who join for 2019.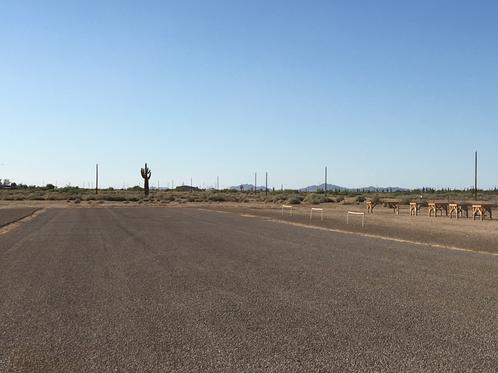 Our Newly Paved 360' X 60' Runway
| | |
| --- | --- |
| The Casa Grande RC Flyers is club is a non-profit Arizona corporation with the purpose of promoting the hobby of model aircraft flight and improving the skill and knowledge level of the membership. The club is affiliated with the Academy Of Model Aeronautics (AMA). The club welcomes all AMA and MAAC members to join. Those new to the hobby can receive free instruction from one of the many AMA certified flight instructors. | A Radio Controlled Model In Flight |
| | |
| --- | --- |
| The club holds events directed towards the enjoyment and benefit of the membership and others interested in model aviation. These events include, but are not limited to, Fun Fly skill contests, Air Shows, Swap Meets and informative meetings. Club members also receive discounts at some area hobby shops when they present their current membership card. | A Model Aircraft Limbo Contest |
| | |
| --- | --- |
| The club believes in giving back to the community by teaching people of all ages to fly, opening their events to the public and helping other community organizations to raise needed funds by either direct donations or allowing them to use our activities as fund raisers. Club members have access to the field every day from dawn until dusk. The membership can also use the club RC car track during the hours the field is open. | Two Model Aircraft Flying In Formation |
The club holds their outdoor events at the club field on South Isom Road in Casa Grande.

Club membership is required to use the club facilities. Other AMA and MAAC club members may be asked to pay a "landing fee" when they fly at the club field as guests. Some events may require a donation to a local charity instead. At some events AMA members from other clubs may participate at no charge. See the specific event details. However, the use of the club's air field and /or car track are limited to AMA and MAAC members and their membership card must be available.




Model Aircraft Flying In Combat
Casa Grande RC Flyers membership is open to anyone interested in radio controlled flight of both fixed wing aircraft, drones and helicopters. The club field is for both electric powered and gas or glow fuel aircraft. Membership information can be found on the "How To Join" page on the menu bar to the top left of this page. Membership in the Academy Of Model Aeronautics or Canada's MAAC is required to become a club member because those memberships provides the required insurance. The club does not offer a RC car membership only option. All members are required to join the AMA or MAAC. Special free or reduced cost memberships are avaliable to children 19 and under as, well as, adtional adult family members. Details are posted on the "How To Join" page.
Casa Grande RC Flyers Field
City Expands Club Facilities
Front Page Of The May 11, 2014 Casa Grande Dispatch
Front Page Of The March 16, 2013 Casa Grande Dispatch
AMA Grant Award. Thank you, AMA.
The Casa Grande RC Flyers is an Academy Of Model Aeronautics "Gold Level Leaders Club" located in Casa Grande, Arizona. A current AMA or MAAC membership is required to join the club and to use the field.