2023 - 2024 Season Major Events
November 11, 2023
: National Model Aviation Day & Swap Meet, 9 AM – 1:00, Benefiting the Hospice Charitable Fund of Central Arizona.
December 9, 2023: P.I.N.A.L Fly-In and Swap Meet, 9:00 AM – 1:00 PM. Benefiting the Pets In Need Action League
January 13, 2024: Food Bank Fly-In and Swap Meet, 9:00 AM – 1:00 PM, Benefiting St Vincent de Paul Food Bank
February 10, 2024: Fly-In For Pets And Swap Meet, 9:00 AM – 1:00 PM Benefiting the Valley Humane Society.
March 9, 2024: 10th Annual Air Show And Swap Meet, 9:00 AM – 1:00 PM. Benefit for Boys & Girls Club of the Sun Corridor.
Food services and swap meets take place at all of our major events and RC vendors attend specific events. The public and other AMA Club members are always welcome. There is never a charge for parking or entry.
Membership & Officer Meetings
March 7, 2023: Casa Grande RC Flyers Spring Board Meeting at airfield. 11:00 AM
April 1, 2023: Club Returns To Summner Flying Schedule
November 1, 2023: Club Returns To Their Winter Flying Schedule.
TBA General membership meetings.
Airplane Combat Dog Fights each Thursday starting at 10:00 AM during the winter season. (November - March)
Glider contests each Thursday starting after the 10:00 AM combat dog fights will take place during the winter season. (November - March)
Bi Monthly "Nitro Friday

"
On the first and third Friday of each month starting at 10:00 AM
, the club will hold a "Nitro Friday" event where "newbies" and others interested in nitro powered aircraft can share ideas and information with each other. The field is NOT restricted to nitro aircraft only at that time. Electric aircraft can also fly during nirto Fridays.
Nitro Friday will only take place during the winter season which is November through March of each year.
Join the Casa Grande RC Flyers on the 2nd Saturday of each month November through March at 9:00 AM for our monthly swap meet. Non-members Casa Grande club members wanting to set up a space at the swap are asked to make a $10.00 donation to set up or use a club table at the event. Spectators are always welcome. T

able space is always free to our club members.

AMA membership is NOT required to use or set up a swap meet table. Remember the 2nd Saturday of each month, November through March, to come and join us! Swap meets usually ends at noon.
Getting Ready For Weekly Comabt Dog Fights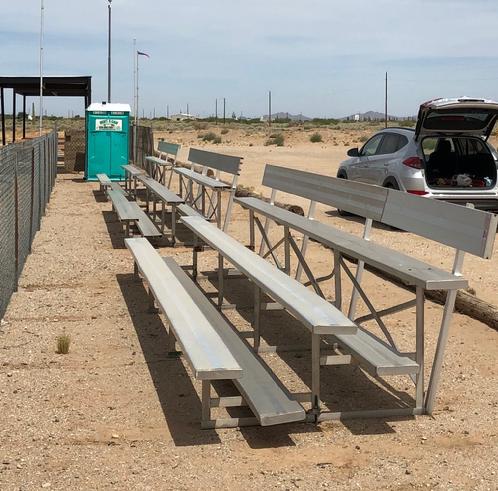 The field has seating for over 120 spectators.
On the fourth Saturday of each month at 10:00 AM, December through March, join your fellow drone and helicopter pilots at the club field for a special morning of flying. On that day, drones and helicopters have runway priority. Please remember that flights of any aircraft must be confined to our eleven acre site. Non-member "landing" fee applies and AMA membership is always required to fly at our field.
The Casa Grande RC Flyers may hold fun fly events throughout the winter months. The dates and times will be announced in special club e-mails to their members and on their web site and Facebook page. Events are approprate for all level of flyng ability. Prizes are usually offered to the winners. Also everyone who enters the fun fly will be given a drawing ticket for a chance to win a prize! Come out and enjoy the day at the Casa Grande RC Flyers field. Non-members must pay a $10.00 landing fee to use the field and also present their current AMA membership card.
Radio Controlled Car Races
We are primarily a flying club but we have a radio controlled car track as some of our members enjoy this hobby too. A transponder is NOT required to race at our track. Watch the events listing and the club e-mails for the exact dates and starting times. Non-members must pay a $10.00 use fee to race on the track. They must also be a member of the AMA to use the track and show their membership card.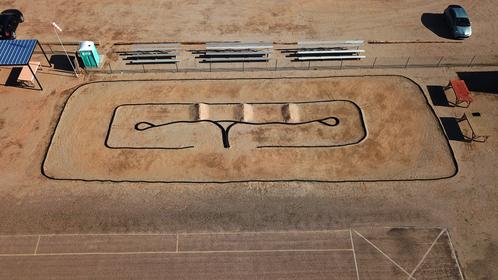 Our RC Car Race Track & Bleachers
Five Years As A Gold Level Leader Club Awarded In 2021
| | |
| --- | --- |
| Help our club grow. Make a donation today. | |
The Casa Grande RC Flyers is an Academy Of Model Aeronautics "Award Of Excellence" and a "Gold Level Leaders Club" located in Casa Grande, Arizona. They were also named an AMA "Club Of The Month". A current AMA membership is required to join the club and to use the field.