2019 - 2020 Season Events
April 1, 2019: Club Starts Summer Schedule
November 1, 2019: Club Returns To Their Winter Schedule
November 7, 2019: Casa Grande RC Flyers Board Lunch – 11 AM
November 9, 2019: National Model Aviation Day Celebration & Swap Meet, 9 AM – 1:00
December 14, 2019: Swap Meet At Club Field, 9:00 AM – 1:00 PM
January 11, 2020: Fly-In For Hospice and Swap Meet (9:00 AM – 1:00 PM
February 4, 2020: General Meeting At Golden Corral 5:00 PM
February 8, 2020: Swap Meet At Club Field 8:00 AM – 1:00 PM
March 14, 2020: 7th Annual Air Show And Swap Meet, 8:00 AM – 1:00 PM
Airplane Combat Dog Fights each Thursday starting at 10:00 AM during the winter season. (November - March)
Join the Casa Grande RC Flyers on the 2nd Saturday of each month November through March at 9:00 AM for our monthly swap meet. Non-members wanting to set up a space at the swap are asked to make a $10.00 donation to set up or use a club table at the event. Spectators are always welcome for free. T

able space is always free to our club members.

AMA and MAAC membership is NOT required to use or set up a swap meet table. Remember the 2nd Saturday of each month, December through March of each year, to come out and join us! Swap meets ends at noon.
Getting Ready For Weekly Comabt Dog Fights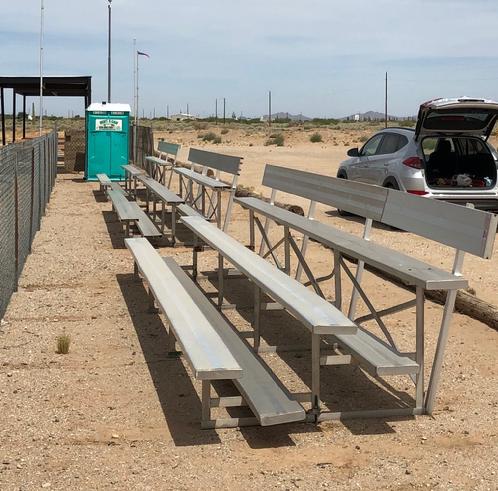 The field has seating for over 120 spectators.
On the fourth Saturday of each month at 10:00 AM, December through March, join your fellow drone and helicopter pilots at the club field for a special morning of flying. On that day, drones and helicopters have runway priority. Please remember that flights of any aircraft must be confined to our eleven acre site. Non-member "landing" fee applies and AMA or MAAC membership is required.
TheCasa Grande RC Flyers may hold fun fly events throughout the winter months. The dates and times will be announced in special club e-mails to their members and on their web site and Facebook page. Events are approprate for all level of flyng ability. Prizes are usually offered to the winners. Also everyone who enters the fun fly will be given a drawing ticket for a chance to win a prize! Come out and enjoy the day at the Casa Grande RC Flyers field. Non-members must pay a $10.00 landing fee to use the field and also present their current AMA or MAAC mambership card.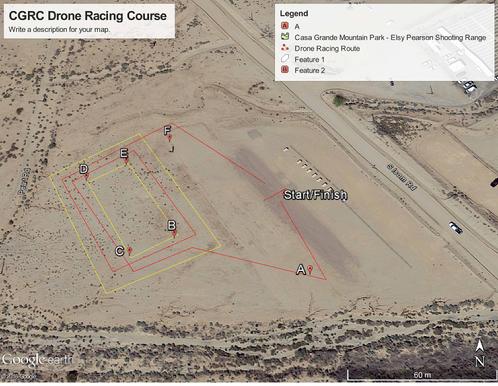 Drone Racing Route For Drone & Helicopter Day Events
Radio Controlled Car Races
We are primarily a flying club but we have a radio controlled car track as some of our members enjoy this hobby too. A transponder is NOT required to race at our track. Watch the events listing and the club e-mails for the exact dates and starting times. Non-members must pay a $10.00 use fee to race on the track. They must also be a member of the AMA or MAAC and show their card.
Story From March 16, 2017 Casa Grande Dispatch
Story From Decmeber 30, 2016 Casa Grande Dispatch
| | |
| --- | --- |
| Help our club grow. Make a donation today. | |
The Casa Grande RC Flyers is an Academy Of Model Aeronautics "Award Of Excellence" and a "Gold Level Leaders Club" located in Casa Grande, Arizona. A current AMA or MAAC membership is required to join and to use the field.