Starting Saturday January11, 2018, the actual weather conditions at the field will be available on WeatherLink.com. You will need to register on that site to receive the data but there is no charge for the service. Members can also receive current field weather conditions on their smart phone using a free iPhone or Android application, "WeatherLink 2.0". Download that application to be able to view current field weather conditions updated every 5 minutes. This is just another benefit of being a member of the Casa Grande RC Flyers.
To get the current field weather, install WeatherLink 2.0 on your smaartphone or go to WeatherLink.com. Register search for the weather at the Casa Grande RC Flyers field.
View Of Field Weather Data On A Personal Computer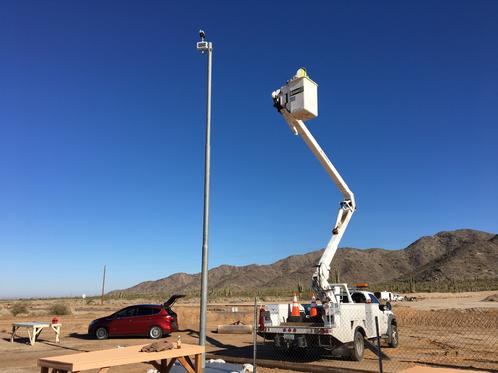 Finishing Mounting The Equipment
City Installing Pole For The Weather Station At Field
The Casa Grande RC Flyers is an Academy Of Model Aeronautics Gold Level Leaders Club in Casa Grande, Arizona. A current AMA or MAAC membership is required to join and to use our field.