The Casa Grande RC Flyers is an Academy Of Model Aeronautics (AMA) club. As such, and because of our agreement with the land owner, anyone using the field must be a member of the AMA and have their membership card with them. If that requirement is met, the club charges a guest "landing fee" to non Casa Grande RC Flyers members of $10.00 per day to fly at our field or use our car tracks. The club also charges non-members a fee to sell their items at the club's swap meets. That fee is also $10.00. It is therefore recommended that individuals consider joining the club as their total annual cost may be far lower with the annual membership. We welcome new members and information about joining is on the How To Join page. We do not offer a seasonal membership.

All memberships are for the calendar year only except during the end of the year when membership specials may be offered.
We ask guests to understand that the club spends a considerable amount annually to add to, and maintain their facilities. That cost is paid by the members through their dues. We receive many "guest" or "visitor" requests because we are in a seasonal vacation area, but we are not a seasonal club. We hope you consider joining us regardless of the length of your stay in our area. We keep our annual dues low to encourage your joining.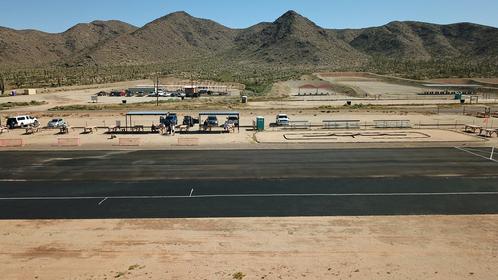 The Club Field As Of October 2020
The Casa Grande RC Flyers is an Academy Of Model Aeronautics "Award Of Excellence" and a "Gold Level Leaders Club" located in Casa Grande, Arizona. They were also named an AMA "Club Of The Month". A current AMA membership is required to join the club and to use the field.