Club Airfield at 2725 S Isom Road In Casa Grande, Arizona
| | |
| --- | --- |
| The Casa Grande RC Flyers club is a non-profit Arizona corporation with the purpose of promoting the hobby of model aircraft flight and improving the skill and knowledge level of the membership. The club is affiliated with the Academy Of Model Aeronautics (AMA) and was named a Gold Level Leader Club by the AMA. They were also named an "Award Of Excellence" club by the AMA and have received many other honors. The club welcomes all AMA and MAAC members to join. Those new to the hobby can receive free instruction from one of the many AMA certified flight instructors. The club provides the aircraft and everything needed for the free lessons. | Members Enjoy Monthly Swap Meets |
| | |
| --- | --- |
| The club holds events for the enjoyment and benefit of the membership and others interested in model aviation. These events include, but are not limited to, Fun Fly skill contests, Air Shows, Swap Meets and informative meetings. The club events are all open to the public and free to attend. Participation by non-members requires a fee and an AMA or MAAC membership. | A Model Aircraft Limbo Contest |
| | |
| --- | --- |
| The club believes in giving back to the community by teaching people of all ages to fly, opening their events to the public and helping other community organizations to raise needed funds by either direct donations or allowing them to use our activities as fund raisers. Club members have access to the field every day from dawn until dusk. The membership can also use the club RC car track during the hours the field is open. Membership in the Academy Of Model Aeronautics or the Canadian MAAC is required to belong to the club. | Two Model Aircraft Flying In Formation |
The club holds their outdoor events at the club field 2725 S South Isom Road in Casa Grande, Arizona.

Club membership is required to use the club facilities. Other AMA and MAAC club members will be asked to pay a "landing fee" when they fly at the club field as guests. The use of the club's air field and /or car track are limited to AMA and MAAC members. Everyone must have their membership card on display while at the club field. Other AMA club members use of the field, as paying guests, are limited to certain special event dates.




Model Aircraft Flying In Combat
Casa Grande RC Flyers membership is open to anyone interested in radio controlled flight of both fixed wing aircraft, drones and helicopters. The club field is for both electric powered and gas or glow fuel aircraft. Membership information can be found on the "How To Join" page on the menu bar to the top left of any page. Membership in the Academy Of Model Aeronautics or Canada's MAAC is required to become a club member because those memberships provides the required insurance. The club does

NOT

offer a RC car membership only option. All members are required to join the AMA or MAAC. Special free memberships are avaliable to individuals 19 and under. Reduced membership costs are also offered to additional adult family members in the same household. Details are posted on the "How To Join" page.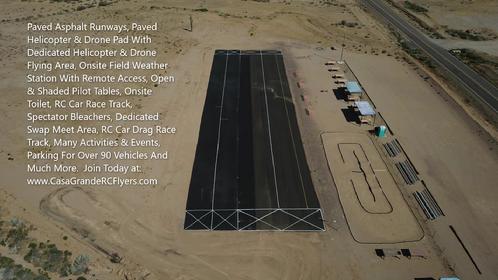 Casa Grande RC Flyers Field
The Casa Grande RC Flyers Award Of Excellence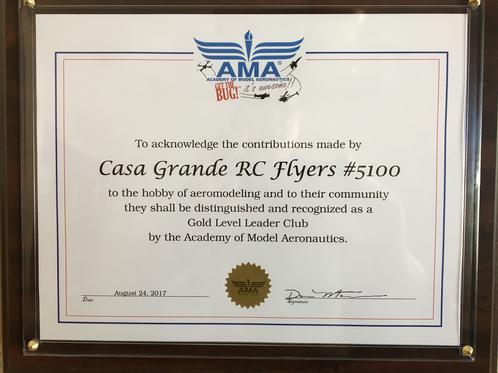 Casa Grande RC Flyers Gold Level Leaders Club Award
Help The Casa Grande RC Flyers assist many area charities by making a donation of any amount. The Casa Grande RC Flyers is an Arizona non-profit corporation dedicated to promoting the hobby of model aviation and supporting local charities which include the Casa Grande Food Bank, Hospice Charitable Fund of Central Arizona, Valley Humane Society, Boys & Girls Club of the Sun Corridor, and the Pets In Need Action League. Use the "Donate" button below to contribute to our efforts.
The Casa Grande RC Flyers is an Academy Of Model Aeronautics "Award Of Excellence" and a "Gold Level Leaders Club" located in Casa Grande, Arizona. They were also named an AMA "Club Of The Month". A current AMA or MAAC membership is required to join the club and to use the field.