Drone Racing At the Casa Grande RC Flyers Field
Drone & Helicopter Day is the 4th Saturday of each month, December through March.
We offer special runway time to the pilots of drones and helicopters and also hold drone races on our drone course. See the video below to view the course.
AMA & FAA Drone safety rules are enforced. All done flights must be under 400 feet and within the sight of the pilot or spotter. No aircraft are allowed to fly beyond the club's 11 acre leased land. Fly safely and responsibly at all times. View our field boundary map below.
Flying Field Boundaries
Casa Grande RC Flyers Drone Racing Course
Casa Grande RC Flyers Drone Racing Rules
Introduction
The following rules and regulations were approved by the CG RC Flyers BOD on 4 November 2017. There is an international working committee that is helping to both design drone racing courses and the surrounding event and flight rules and regulations. The results of those efforts will be used to form the any revised versions of the Casa Grande RC Flyers operational rules and regulations for Drone Racing.
These rules are intended for Casa Grande RC Flyers as the basis for local drone flying training and for local competitions. It is the intent of the CG RC Flyers Directors to help shape the standard set of drone and FPV RC racing rules for our club field.
Based on: 2015 US NATIONAL DRONE RACING CHAMPIONSHIPS
WORKING DRAFT RULES AND REGULATIONS V.1.2 Publish Date: June 12, 2015
http://dronenationals.com/2015/rules/
Event Definition
Drone Racing is considered an amateur and sport enthusiast competitive event, as defined by the Academy of Model Aeronautics (AMA). Local events will follow the general rules and regulations of typical amateur competitions and airshows. Special events may be sanctioned by the AMA and will expressly follow the rules and regulations of a sanctioned Competitive Sporting event as well as the general AMA rules.
Participation in Done Flying
All participating pilots must be current AMA or MAAC,and Casa Grande RC Flyers members. Guest or visiting participating pilots must be current AMA or MAAC members and pay a landing fee.
Definition of Terms
DNS: Did Not Start

DNF: Did Not Finish

DQ: Disqualified

OOB: Out of Bounds

General Piloting Rules
Pilots must adhere to all AMA rules and regulations of safe aircraft operation and flight.

Pilots must adhere to any applicable FAA regulations and other special event notifications, restrictions or regulations established for an event.

All pilots must register for races, attend a general safety briefing and, if necessary, sign the appropriate waivers from the race organizer.

All pilots must demonstrate effective Fail-Safe procedures to prevent uncontrolled fly-aways that must be approved by the Flight Director. In some cases, this is the return to home mode if it loses contact with the radio transmitter.

Transmitters must have start switch or sequence. The aircraft should not power up by accidently by moving the throttle. Aircraft arming may be executed by a specific switch on the radio, or by a sequence, i.e: pulling both control sticks down and to the middle.

Pilots must ensure that their transmitter or any other electronic devices (including smart phones, tablets and computers) do not interfere with the aircraft or devices of any other pilot.

Pilots must demonstrate an air-worthy airframe and pass general mechanical, electronic and video function checks.

Pilots must demonstrate basic piloting skills and must successfully fly a controlled flight around the course within a certain amount of time exhibiting the ability to pilot and navigate their airframe around pylons and/or through obstacles.

Pilots must use FPV to fly their aircraft. This can be Goggles or a ground station LCD type display.

Venue Operations
Pilots must adhere to all local airfield rules.

Pilots must contain all equipment, airframes within the pilot pit area and must not solder, weld or cause any spark within the pit area.

Charging for general charging of electronic devices including radios or any device with a self-contained power supply is permitted.

All batteries must be stored in a LIPO-safe bag or in an approved fire resistant container.

Racing Categories - General Information
The CG RC Flyers drone race courses are designed to test both speed and agility skills. Currently there are the following categories of races (Timed and Ladder style competitions):

Speed Pylon Race:

Solo Pylon Timing: Fly around the pylon course: pylon 1, twice around pylons 2 >5, not through gates or around obstacles, and pylon 6 to the finish line - timed.

Pylon Pursuit: Two drones fly pylon course: pylon 1, twice around pylons 2 >5, not through gates or around obstacles, and pylon 6 to the finish line. - first across the finish line.

Obstacle Pylon Race: Pylon Course featuring various obstacles, gates and flags. This course may include under/over obstacles, funnel gates, hairpin turns, slalom, etc…

Solo Obstacle Timing: Fly around the pylon course (twice around pylons 2 >5, through gates or around obstacles) and to the finish line – timed.

Pylon Obstacle Pursuit: Two drones fly pylon course: pylon 1, twice around pylons 2 >5, through gates or around obstacles, and pylon 6 to the finish line. - first across the finish line.

Drone Drag Racing:

Solo: Drone races length of runway - timed.

Pursuit: Two drones race length of runway – first across the finish line.

Judging and Field Director
All races will be governed by a judging Committee and the Flight Director.

A sanctioned AMA event will follow the general rules and regulations of amateur competition.

Races may be monitored by judges, via FPV of the pilot's video feed, (either goggles or display) cameras, timing/lap systems and field marshals to maintain fair and accurate competition.

The Flight Director has final executive decision-making authority.

Any practice or behavior that deemed unsafe, (i.e. flying over the pit or spectator area, or outside of the field boundaries) will result in an immediate disqualification.

Airframe General Guidelines
The CG RC Flyers field rules allow both gas and electric aircraft, but are limited to a maximum weight of no more than 10 pounds.

The 2015 National classifications are designed to be loosely defined in order to promote innovation in new configurations, materials, motors and prop variations. Currently there is only one class category defined for the 2015 event, which is the "250 Class" size airframe. There are no minimums defined at this point, only the maximum:

250 Class multirotor (3, 4 or 6 motors)

Maximum Frame size under 330mm motor to motor

4S maximum LIPO battery

6″ Maximum propeller size, 5" in the case of 3 bladed propellers

Must use official video transmitters provided by the event organizers.

All airframes must pass a safety and air-worthiness inspection. Once the airframe has been checked and approved, it must not be modified or changed, or it will need to be re-inspected. Airframes should be repaired with equivalent parts that were originally used during check-in. The Flight Director has the final decision on whether an airframe is accepted, and or requires changes or modifications in order to be approved for racing.

Field, Course and Venue Operations
The RC airfield is explicitly controlled by the Flight Director and the Safety Officer wearing high visibility vests. Either official has the ability to disqualify any pilot for any reason, and has the ability to stop a race or flight at any time for any reason.

The RC airfield is restricted airspace and only authorized personnel (pilots, spotters, recovery crews and Club Officials) are allowed in the pit area and on the airfield.

All flights are grounded while any personnel are on the runway or beyond the pilot stations.

Personnel engaged in active recovery of any airframe must immediately remove all battery power from the aircraft upon contact.

For competitive events, the field must have a fire extinguisher and a shovel, and a basic first aid kit ready to be immediately deployed in case of fire or injury.

Metal covers (such as a trash can lid) should be available for all Drone Recovery crews to use as a shield if other retrieval methods are unsuccessful.

The Flight Director and the Safety Officer must have 2-way radios (FRS or GMRS) with a specific channel designated for flight operations and first-aid/emergency communications. All directors (operations, flight, judging) must have access to a radio. It is recommended that any airframe recovery personnel on the field also have a radio.

Drone recovery crews must not enter the field until all aircraft have landed. Aircraft recovery crews must expediently remove all airframe parts, components and debris from the field, and do a quick analysis of the airframe to see if all parts have been retrieved. If an airframe is still powered and props are spinning, they must try to safely indicate via hand signals through the pilot camera the Thumbs Down signal to indicate to the pilot to power down their aircraft. In all cases do not attempt to handle an aircraft that has motors engaged, spinning or is on fire. Use the metal lid in order to cover the craft and attempt to neutralize a fire.

Official Course Dimensions and Boundaries

The CG RC Flyers Drone Course is contained within the established RC Airfield property (see map).

Flight paths have a safety buffer zone with a minimum of 10 yards from spectator areas.

Start/Finish Flight paths do not direct 100% energy force of the airframe directly at the audience. Accidents, yaw spinouts and other impacts that cause the aircraft to alter from its flight path have been considered and implemented into the design.

Spectators are allowed for viewing purposes, but must remain outside the fenced pilot pit area.
Course Timing Systems (as used in US Drone Nationals)

The CG RC Flyers will use a stopwatch for timed races or first past the finish line for pursuit races.

The US Drone Nationals uses a timing system to officially track the time of each pilot throughout the races. Each pilot must rent or purchase a compatible timing emitter with a unique ID and properly install it on the airframe that is to be raced.

Emitter is powered via a 3-pin standard servo type connector for power (5v) For example, an unused channel on a control receiver can be used or an unused motor output on a flight controller. The emitter should be powered by a connector instead of direct solder connection for easy removal and positioning on another aircraft.

IR emitter must point horizontally outwards towards the starboard side on the airframe. The sensors will be mounted vertically along the right side of the Start/Finish Gate.

Each pilot is responsible for mounting the emitter in a location conducive to 100% successful triggers. (i.e. don't accidentally block it with a Velcro strap) The mounting location will be inspected during check in for optimum placement.

Emitters should be mounted securely to the airframe in a location that will not easily be damaged in a crash. Typically this is on the top of the airframe.

Pilot is responsible for the safe powering of the emitter, and failed triggers due to improper operation, overpowering, overheating, improper mounting or failed trigger is the complete responsibility of the pilot.

Any failed non-triggers are the responsibility of the pilot, and any judgments for manually adding times or adjustments are at the sole discretion of the Field Marshal.

Flight Deck Race Count-down Procedures
The CG RC Flyers will use the US Nationals four-stage process for all racing heats. Each stage is designed to check for the various conditions, prepare video transmitters and have all pilots organized and ready for racing. The Flight Director will monitor each stage. All heats and pilots will proceed together through each stage. Each heat will be 7 minutes in duration. The stages are as follows:

Stage 4 (21 minutes from flight): Pre-flight air-worthiness check. All airframes will undergo safety checks. All cables, connectors, props and electronics will be pre-flight checked by the pilot.

Stage 3 (14 minutes from flight): Pilots will be assigned a race position. The aircraft should not be powered up at this time.

Stage 2 (7 minutes from flight): Pilots will take their airfcraft to the start position and await the next heat. Pilots may power up their goggles or displays but may not power up their radio at this time.

Stage 1 (On Flight Deck): Pilots will proceed to their assigned seats at the pilot stations and power up their radios. Spotters will power up the airframe, check the video feed by the number of fingers in front of the pilot camera to confirm successful and correct video feed. The pilot must give a "Thumbs Up" to the Flight Director when they have successfully powered up video and have the correct video feed. Pilots must not start engines until directed by the Flight Director.

Once all pilots have given the Thumbs Up sign, the Flight Director will commence the race start count down. It will proceed as follows:

Pilots Start your engines

Pilots at the Ready

Count down 3, 2, 1, Air horn blast.

Air horn short blast will signal commencement of the race.

At the discretion of the Flight Director or Safety Officer, the race may be stopped at any time. If this occurs, pilots shall follow the Flight Director's instructions.

Three air horn blasts will sound in case of emergencies (ie: uncontrolled fly-away). All pilots must prepare to land their aircraft immediately. If this occurs, pilots shall follow the Safety Officer or Flight Director's instructions.

Course Rules of Engagement
Aircraft must stay within the RC Airfield and all prescribed flight paths.

Pilots must keep all aircraft engines off until the Flight Director gives the "Start Engines" signal. This will happen only when the aircraft has been placed on the starting position and all field staff have left the area.

Pilots must adhere to the prescribed launch sequence. No movement before the starting signal.

False starts will incur a penalty at the discretion of the Flight Director. Most standard penalties will be pre-defined before the start of the race and posted. Generally they are defined as:

False Start penalty: 5 seconds.

Not following flight path: 5 seconds.

Flying in opposite direction of flight path direction: 5 seconds.

Deliberately attacking or crashing into opponent: Disqualification and elimination from any further flying.

Deliberately flying towards the pilot stations or spectator area: Disqualification and elimination from any further flying.

Other minor infractions as deemed by the Flight Director or Safety Officer.

Pilots must maintain control of their aircraft at all times and only fly within their skill level.

Any pilot who exhibits unsafe flying procedures may be disqualified at any time at the discretion of the Flight Director or safety Officer.

Once pilots have successfully completed all laps, they must return to the start/finish pad, land and DISARM. Pilots must give the Flight Director a "THUMBS UP" that they have completed their flight.

Pilots that have crashed at any point during the heat and are unable to resume racing must DISARM their aircraft, give the Flight Director a "Thumbs Down" indication and wait until the heat is over. The airframe will be recovered by the field crew.

Pilots must successfully fly through all gates, flags, and other obstacles on the course. If a pilot misses an obstacle, they must safely turn around and attempt the obstacle again. They will have up to two further attempts before being disqualified from the heat. Judges will ride along via FPV with the pilot, and will indicate immediate to the pilot if they must correct any flight path errors. Additionally, the Field Marshal and field observer judges may signal to the Flight Director that an obstacle has been missed. In this case the pilot must immediately and safely return to the missed obstacle and attempt to successfully navigate it.

Pilots must fly around pylon turns at or below the level of the top of the pylon (8-10ft). They may climb up to the maximum ceiling height on straight-a ways.

Maximum Ceiling height for this event is 40 feet (12m). Any breach of the ceiling will result in immediate disqualification from that heat. If the pilot receives two breaches of the ceiling height or goes out of bounds at any time during the event the pilot will be completely disqualified from the event. If a pilot has breached the ceiling or has gone out of bounds, the pilot must immediately land the aircraft in a safe location on the field. The Flight Director or Safety Officer will give further instructions.

In the event of a crash or the inability to resume flight safely, the pilot must immediately DISARM their aircraft and give the Thumbs down signal.

The field staff may use various hand signals in the front of the pilot's camera to indicate air-worthiness status to the pilot. Thumbs up means the pilot is pre-cleared for flight. Thumbs down means the craft is damaged and is not able to fly. In all cases if you see field staff in the First Person View pilot camera, you must disarm and wait for further instructions.

Pilots may have multiple airframes, and each airframe must pass all safety and air-worthiness checks before flying.

The Field Marshal has the right to disqualify any pilot for any reason if the pilot or piloting behavior is deemed unsafe or if the pilot has breached any rule or regulation within this document.

Emergency or Fail-Safe Procedures
Should a pilot lose control of their aircraft, the pilot must attempt a safe landing, cut throttle in a safe area or execute a failsafe procedure in a safe area.

If a pilot loses video, they must immediately execute a fail-safe procedure and or attempt to land the aircraft via Line of Sight. All spotters must assist pilot in determining the location of your aircraft.

Spotters must maintain visual line of sight of the corresponding pilot's airframe at all times and must provide verbal directions or situational awareness details to the pilot. If the aircraft breaches the max ceiling height or goes out of bounds, Flight Director or Safety Officer will indicate to the pilot the infraction and the spotter must immediately assist the pilot in maintaining control and safely land the aircraft.

Course Competition Stages
Practice: Pilots may practice at the designated practice field before the event. All practice runs may be timed but will not count towards time trial qualifying runs. It time permits, pilots will be able to have one practice round before the commencement of the time trials on the first official day of the races.

Time Trials: Each competitor can attempt to fly the course two times, with the best time being their qualifying time. If the pilot does not complete the course because of a mishap on the course, or is unable to complete all the obstacles successfully within the two attempts and has not received a warning for any infraction, they will be eligible for finals qualification, and will be ranked by random order instead of time.

Finals: By using the time trials as an initial seed for the ranking order, each pilot will be ranked in order of time, then randomly for any pilot that received a DNF. Initial heat groupings will be selected by a typical ladder system and pilots will progress through the ladders to the semi-finals, finals and championships.

Fly Safe – Have fun!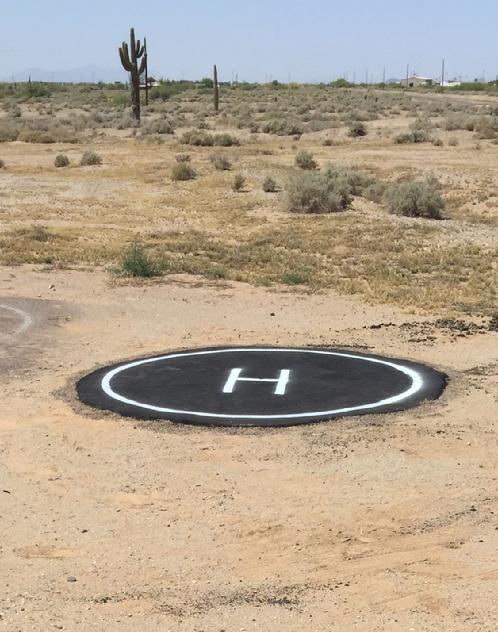 The Club's Asphalt Drone & Helicopter Pad
March 23, 2017 Casa Grande Dispatch
The Casa Grande RC Flyers is an Academy Of Model Aeronautics "Gold Level Leaders Club" located in Casa Grande, Arizona. A current AMA or MAAC membership is required to join the club and to use the field.